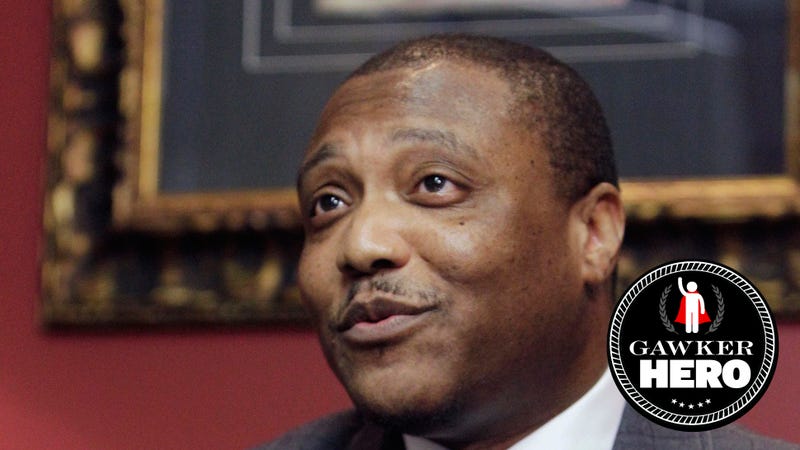 Anthony Graves spent 18 years in prison—and 10 on death row—for a murder he didn't commit. With the help of Nicole Cásarez, a lawyer and journalist, Graves was exonerated in 2010 and eventually received a $1.45 million settlement from the state of Texas.
After buying himself a BMW and rebuilding his mother's home, Graves used his money to start a charity for at-risk children whose parents are imprisoned. That wasn't enough, though, for Graves. He also wanted to thank Cásarez, who spent eight years working to free him.
So earlier this year, knowing she'd never accept money or some other material gift, Graves established a scholarship at the University of Texas Law School.
In October, Graves surprised Cásarez with news of the scholarship at a dinner party he threw—he said it was a going away party for himself. From Pamela Colloff's report of the evening in the Texas Monthly:
Tentatively, [Cásarez] rose from her seat and walked over to Anthony, who handed her a framed certificate. Her jaw dropped when she saw it, and she covered her mouth in surprise. "You've been punked!" Anthony said, laughing uproariously. Finally, after he egged her on, she agreed to read the words out loud:

The University of Texas Law School Foundation Gratefully Acknowledges the

NICOLE B. CÁSAREZ ENDOWED SCHOLARSHIP IN LAW

Established in 2013 with a gift from Anthony Graves to honor his defender, friend, sister, and angel, to recognize her and her students' work to exonerate him from a wrongful conviction, and to encourage others to follow her example of hope, perseverance, courage, and humility.

"Never underestimate the power of dedicated people working for good."

Half-laughing and nearly crying, Nicole told Anthony how grateful she was to be recognized and how honored she was that he had chosen to help students at her alma mater.
"The students have some very big shoes to fill," Graves told Colloff after the dinner. "Nicole exemplifies what everyone should try to be—someone who fights against injustice."
The same could be said for Graves, who—after 18 years—had every right to leave prison angry and cynical and wanting to spend his (relatively small) settlement on himself. Instead, he gave back. We should all be half as generous.
---
More Gawker heroes: Ken Layne on Pope Francis, Hamilton Nolan on Subway Brie Man, Cord Jefferson on Vanessa Van Dyke, Rich Juzwiak on Kanye West, Camille Dodero on Antoinette Tuff, J.K. Trotter on Erik Wemple, Adam Weinstein on Alice Munro, Taylor Berman on Anthony Graves, Beejoli Shah on Shia LaBeouf, Caity Weaver on Beyoncé Selfie Perfect Teen, Sam Biddle on Josh Tetrick, Lacey Donohue on Wendy Davis, Tom Scocca on Ai Weiwei, Max Read on @Dril, and John Cook on Rob Ford.